"On Purpose" is Ikigai Nairobi's special series of member spotlights where we learn about the journey of finding one's reason for being.
This week's member spotlight features a pioneering disruptive innovator in the Commercial & Industrial Solar sector in Africa, Chalker Kansteiner, CEO and founder at GridX Africa. 
Read on to discover Chalker's evolving understanding of his purpose and reason for being, his perspective on the unique challenges facing the Off-Grid Solar industry in Kenya, and the emerging technologies he's most excited about that are powering the future of energy!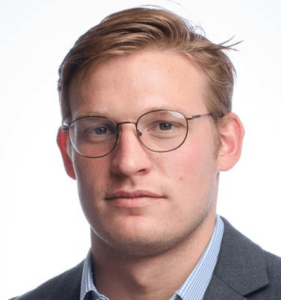 Chalker Kansteiner is the CEO & founder of GridX Africa.
GridX Africa is a Nairobi-based company that Chalker co-founded in 2017 with GridX Africa's Chairman,  Harry Lopes.
GridX Africa provides solar and battery solutions to commercial and industrial power consumers throughout the African continent, boasting an extensive and diverse portfolio of projects spanning but not limited to energy, infrastructure, mining, construction, agriculture, tourism, healthcare, real estate, and telecoms sectors.
Prior to GridX Africa, Chalker worked as a senior analyst at the Black Rhino Group, Blackstone's large-scale African energy project developer. Chalker has an infrastructure development background, with strong experience in power project finance.
In his spare time, Chalker enjoys going on adventure motorcycle rides and spending quality time with family.
How would you describe your Ikigai/Purpose/Reason For Being?
The answer to this is ever-evolving. At this present moment, I would describe my purpose and reason for being as a continuous journey guided and driven by the ability to make useful and meaningful contributions to society, which I strive to action intentionally both in my personal and professional life.
What is a common misconception people hold about the Commercial & Industrial (C&I) Solar energy sector?
Often people fail to recognize that the C&I solar sector is made up of a wide the breath of consumer segments. The C&I solar sector offers solar solutions to both big clients such as large manufacturing firms, to the everyday entrepreneur in rural or urban informal settlements.
Another common misconception in the C&I Solar energy sector is that solar is not a suitable sustainable or economically viable solution for the industrial needs of big clients. In my opinion that is technically not true. Solar is very well suited for big industrial power needs. What's promising is that the Kenya market is rapidly educating itself on the client-side in terms of awareness and adoption of solar power as an affordable and clean source of energy.
What is the biggest challenge the off-grid industry faces in Kenya, East Africa, or Sub-Saharan Africa?
"A key challenge that requires attention in the Off-Grid Industry, both in Kenya and across sub-Saharan Africa that of Inclusion. In thinking of inclusion, there are a lot of Expats involved in the space and this can pose a major risk to the growth of the Off-Grid industry if there is a lack of local knowledge and integration." 
Of course, I say this with a solid dose of irony as an American national!
In the same breath, this is not to say that there are not a lot of local developers and local partners creating impactful businesses in the Off-Grid Industry in Kenya.  At Grid X we set out to work very closely with local developers and partners, and in doing so we are able to make a conscious and active effort to move away from the ex-pat mentality, and instead move towards establishing and strengthening a work practice and culture that is driven and informed by a proper sense of inclusive that allows us to better caterer to the specific needs of the unique and diverse clients and communities that we serve.
What emerging or disruptive technologies are you most excited about in the Off-Grid Industry?
"I am excited to see the booming growth of the E-Mobility market in Kenya."
There are many local companies, both start-ups and established brands, making great strides in advancing the E-Mobility sector in Kenya. This list includes but is not limited to companies providing electric powered tuk-tuk rides e.g Arc Ride Kenya and Bolt Kenya; electric powered boda-bodas (motor vehicles) e.g. Ecobodaa Kenya and Kiri EV; electric powered cab and bus passenger vehicles e.g. NopeaRides and BasiGo; to electric-powered boats e.g. ASOBO.
"In line with the growth of E-Mobility is the growing demand for Lithium-Ion Batteries. Lithium-Ion Batteries have been appearing in many headlines when it comes to emerging technologies powering the future of energy. This is partly owing to the growing adoption of electric vehicles which use a range of critical minerals, and lithium is a key ingredient." 
Other solar-powered battery technologies worth paying attention to include iron-air batteries and solid-state batteries, which have the capacity for long-duration storage of clean energy and as such more people in the industry are appreciating the technical and economic viability of battery solutions.
"Lastly, I am also excited about the reemergence of hydrogen in conversations surrounding the future of energy. Hydrogen works very well with solar, acting as a form of storage that can be used directly in industrial processes, making hydrogen a hot topic in the C&I clean energy sector."
What are you looking forward to achieving in 2022?
As GridX Africa we have gotten to the point where we have established a business model that works. For Grid X, 20222 is less about what we want to do and more about how we want to do it. This year we are focused on building on the strengths of our team and our processes to execute impactful change towards sustainable and clean energy at a greater scale.
In the last 12 months we contributed approximately $10 million worth of investment in the distributed energy space in Africa, and this year (2022) we set out to more than double investment and deployment.
How has being part of the community at Ikigai Nairobi impacted or influenced the journey of shaping and establishing the reason for being, for you and the team at Grid X Africa?
I fondly remember the feelings from the first time I came across Ikigai Nairobi. I was very impressed by the effortlessly stylish, chic, and cool décor and feel at Ikigai Nairobi, and must admit to being slightly intimidated by the beauty of the space. But that feeling quickly washed away as soon as I walked through the doors at Ikigai, where I was instantly greeted with warmth. Everybody at Ikigai is super friendly making it an easy and welcoming place to fit into.
"In the era of COVID, the issue of burnout has become a massive personal and institutional challenge that everyone is trying to avoid or at the very least limit."
"Access to green workspaces, such as those that Ikigai Nairobi offers, provides safe and healthy work environments that recharge both your mental and physical well-being. That coupled with an appropriate balance of a professional and social atmosphere, has really helped to elevate the risk of burnout, making Ikigai Nairobi a really flexible and comfortable workplace for the team at Grid X Africa to thrive in." 
Ikigai is a place everybody in the team at Grid X is happy to show up and be productive. At Ikigai the team at Grid X is empowered by the flexibility, variety, and agency to choose environments that they work best in. There's a workspace for every mood – the team can bounce off ideas in our spacious private office space overlooking the glittering water of the solar heated pool at Ikigai Westlands, or individual members of the team can find a quiet corner to put their head down for focused and uninterrupted sessions of work.
What is your favorite place to unwind at Ikigai Nairobi?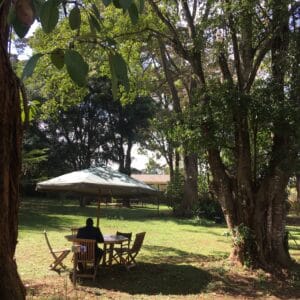 My favorite place to unwind is at a parasol quietly tucked away in the corner of the lower garden at Ikigai Westlands. Here is where I like to take 10-minute breaks, away from my phone and laptop, to recharge in nature for a boost of energy to power me through whatever task awaits me.
I also love to spoil myself at the Roasted Truth café with a cup of their deliciously brewed coffees.
If you would like to learn more about Chalker and the work he and the team do at GridX Africa,  click here. 
To watch Chalker's feature on CNN's Innovate Africa – Scaling Up Africa's Energy Sector – click here.
Escape to flexible office spaces at Ikigai Nairobi. Become a member of Ikigai Nairobi to enjoy a variety of indoor and outdoor private offices, meeting rooms, and shared workspaces set in sprawling garden locations as well as our corporate locations. Work where you feel best.