Workplace Health & Safety
The COVID-19 pandemic has posed a challenge to how we live, interact, and work. We can all agree that it will no longer be business as usual.
At Ikigai, the wellbeing of our community has and always will be of utmost importance. Providing and supporting our community with safe work environments to work, collaborate, and thrive is and always will be our mission.
At the onset of the pandemic in March 2020, we made the difficult decision to temporarily close our locations to restructure and plan how we can support our community through this unprecedented period. During this time, we collaborated with 14 workspace providers to form the Workplace Operator Readiness Council (WORC).
Advised by the Head of Epidemiology & Biostatistics at University of California, Berkeley – Arthur Reingold MD and industry experts in public health, architecture, real estate, and engineering; the council aimed to share information and coordinate guidelines for teams to safely return to the office.
As the founding members, and the only workspace from the continent on the council, we are thrilled to have collaborated with well-known coworking spaces Industrious, Convene, and Mindspace to launch the Return-to-Office Playbook.
The Playbook detailed health and safety protocols and guidelines shared and private office providers can use to inform re-opening strategies and implement contingency plans.
Closer to home
With the Return To Office playbook on one hand and eager to support our community on the other, we prepared to welcome the Ikigai community back to the biophilic work environments.
We affected new health and safety policies to ensure the safety and wellbeing of our community – ready to get back to work. Across all our workspace, we intensified our cleaning practices, implemented personal safety protocols for visitors and members alike, restructured our workspaces to accommodate distancing, and urged our members to work from our flourishing gardens.
Inspired by the return to nature, we introduced our new outdoor meeting rooms under the canopy of all trees at Ikigai Lower Kabete. A breath of fresh air, the outdoor meeting rooms are equipped with everything you'll need for a productive meeting. Additionally, the vibrant greenery is proven to support creativity and productivity – all the qualities you need for a successful meeting!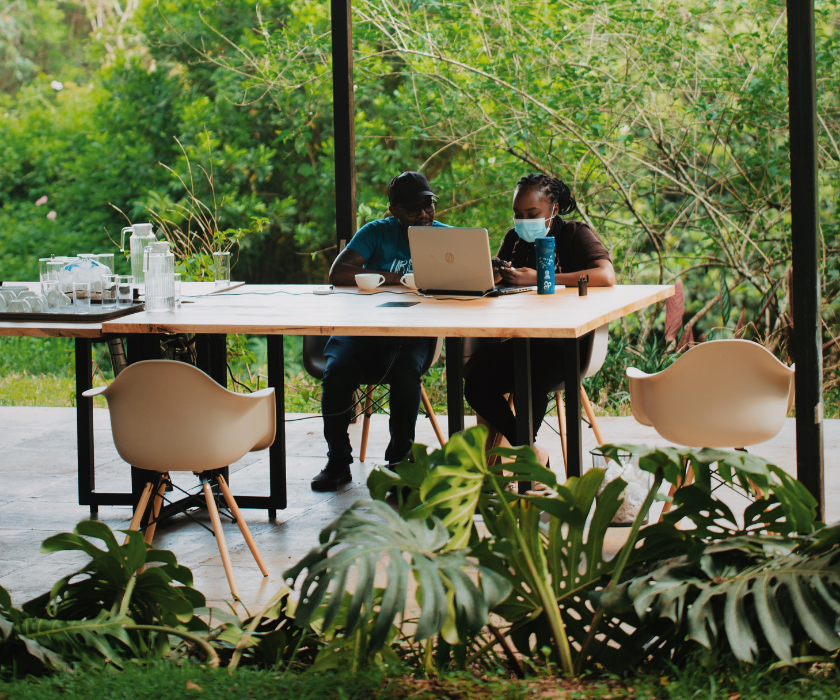 Committed to providing safe work environments now and into the future, we launched Kaizen by Ikigai – our health and safety brand. Kaizen – the Japanese concept of "continuous improvement"- perfectly described our ongoing commitment to practicing and enforcing the highest health and safety standards across all our locations.
Through Kaizen and our Return To Office webinar series, we discussed the different facets of returning to the office with public health expert – Dr. Chris Masila, commercial lawyers Kangwana & Co., and culture & HR leaders – Alana Rush & Ann Kabinga. All these insightful conversations helped us create systems to support our community and their businesses in our new context.
We are delighted to be supporting our members through these difficult times and in the words of Ikigai member and Director of Wasafiri, Hamish Wilson – we will make the path as we walk together.
Ikigai Nairobi is a collective of beautifully designed office spaces across Nairobi in Westlands, Lavington, Lower Kabete, and soon, Riverside! We offer wellness-focused shared workspaces, flexible private offices, meeting rooms, and event spaces for entrepreneurs, creatives, SME's and corporates. Book a tour of any of our locations to experience Ikigai in person!