"On Purpose" is Ikigai Nairobi's series of member spotlights where we learn about the journey of finding one's reason for being.
In honor of women's month, we are doing a special edition of the On Purpose series featuring phenomenal women challenging the norms in their respective industries. For this week's On Purpose spotlight, we catch up with Stephanie Kiragu, fondly known as Steph The Chef, the culinary genius who has been exciting our taste buds ever since her signature cerulean blue menu first appeared on our Instagram feeds.
Read on to learn more about Stephanie's reason for being and the beloved brand that is taking Instagram by storm.
Where It All Begun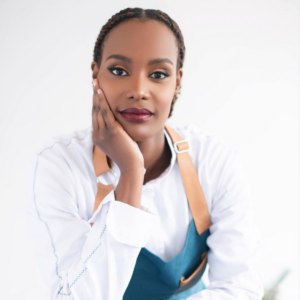 At the age of six, Stephanie Kiragu knew she wanted to be in the food industry.
She had just baked her first cake, and she knew that this was her calling. Since then, she curated her educational experiences to pursue a career in the culinary arts.
To perfect her craft, Stephanie trained in fine dining in Spain, Switzerland, and Chicago. After her studies, Stephanie steadily worked her way up the culinary ranks in some of the best restaurants in Tenerife, Dubai, San Francisco, Chicago, Switzerland, and Watamu.
She has cemented herself as one of the region's best executive chefs designing memorable dining experiences in some of the region's best restaurants.
During her time in the industry, she acknowledged climbing the ranks required a delicate balance between work and life, and it is easy for women to feel held back when they decide to prioritize other areas of their lives such as family.
As a mother, she wanted to continue to build her career and be present for her growing family without having to compromise. This was a catalyst for the famous and beloved online kitchen – Steph The Chef.
Cerulean Blue and Iconic Meals
In May 2020, a cerulean blue menu graced our Instagram stories for the first time, and our lives have been a delicious adventure ever since. Inspired by her colleagues, Stephanie birthed the online kitchen – Steph The Chef – to challenge herself during the lull and confusion on the onset of the pandemic.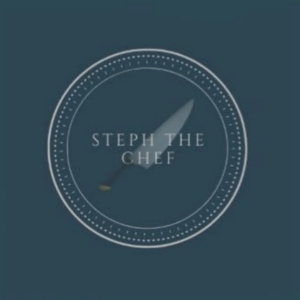 Characterized by unique flavour combinations that push the bounds on the local dining experience, food by the Steph The Chef brand was an instant hit!
"I am inspired by my colleagues abroad to challenge my culinary style by experimenting with different cooking styles and ingredients."
Month on month, Stephanie posted new refreshing menus with interesting ingredients with unique twists on them. From the delicious chocolate mousse brownies, katsu chicken, refreshing Buddha bowls, and filling brunch platters, Stephanie's menus were a refreshing palette cleanser to the local culinary scene.
The constantly evolving menu consistently encouraged her following to be adventurous and curious when it comes to food, and she mentions that the reception has been great thus far.
What started in Stephanie's home kitchen evolved and grew! In 2021, Stephanie grew her team as she expanded into a delicious partnership with Ikigai Nairobi!
She mentions this is just the beginning and she would like to use her platform not only to serve quality delicious meals but also to educate her audience.
Beyond Food
One of the memorable experiences Stephanie had during her career was when she learned how to preserve meat using ash from beans – a tradition native to Western Kenya. This sparked thoughts on how rich the cooking culture and agricultural scene are in Kenya, and how limited our knowledge is of the culinary traditions around Kenya and very few restaurants celebrate our culture.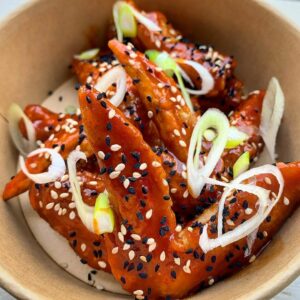 As such, she is keen on highlighting and supporting the Kenyan agricultural scene to find new taste experiences that can elevate her customers' palettes.
"We often tend to associate fine dining with food from the West, but the Kenyan agriculture ecosystem has so much to offer. Fine dining doesn't mean erasing our cultural experiences."
Similar to how Western cultures have exported their food culture, Stephanie aims to do the same by putting traditional dishes and Kenyan ingredients on the global food map. She acknowledges it has been a gradual process of earning her following's trust when it comes to their culinary experiences, but she can see the hunger for something different and she knows there are many opportunities through her brand.
What's next?
Stephanie continues to hone her craft and push the boundaries in her industry. Acknowledging that very few women get to the position she is in, Stephanie is using her platform to inspire young women interested in pursuing a career in culinary arts.
During the interview, she mentions that the culinary industry can be taxing to navigate, and she hopes to support and encourage fellow women that they can pursue their passion without compromising on a fulfilling life.
She says this is just the beginning of the Steph The Chef brand, and we can't wait to see all the remarkable things Stephanie Kiragu achieves!
Try Stephanie's mouth-watering dishes in person when you work at Ikigai Nairobi's beautiful flexible coworking spaces or order straight from her kitchen to your table on her Instagram page!