"On Purpose" is Ikigai Nairobi's series of member spotlights where we learn about the journey of finding one's reason for being.
In honor of women's month, we are sharing a special edition of the On Purpose series featuring phenomenal women challenging the norms in their respective industries.
In this On Purpose spotlight, we feature one of Kenya's Top 40 under 40 Women in Business – Wanji Ng'ang'a, East Africa Regional Manager at Shell Foundation.
Read on to discover how Wanji navigated and redefined her path to a meaningful career, her evolving understanding of her purpose and reason for being (her Ikigai), and learn about the changes and developments she hopes to see in 2022 within the Off-Grid Sector in Kenya and Africa.
Meet Wanji Ng'ang'a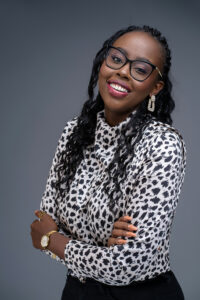 Wanji Ng'ang'a is Shell Foundation's Regional Manager in East Africa. Through her role at the Shell Foundation, Wanji supports early-stage entrepreneurs in clean energy and mobility to curate funding structures that foster lasting impact at scale.
Having worked in the off-grid sector from its infancy, Wanji has established herself as a pioneering figure with over a decade of experience growing businesses in the off-grid sector in various regions in Africa, Latin America, and the Pacific.
A testament to her expertise in the off-grid sector, Wanji was recognized as one of Kenya's Top 40 under 40 Women in 2021.
So how did she get here? We caught up with Wanji to learn about how her career has progressed over the years.
Where it Began
Wanji has never shied away from putting in hard work. Raised by a family of driven and hardworking matriarchs, Wanji was instilled with a fearless work ethic that equipped her with an ambitious drive to start working from a young age. In her earlier years, she always dreamed of becoming a banker which led her to pursue a degree in finance from the United States International University (USIU).
Risk and Retrospection
Following her undergraduate, Wanji began her career in banking. After a few years of rotating between departments, she came to realize that the banking industry wasn't the right fit for her and craved the opportunity to work more closely with customers, in particular those in underserved communities.
In 2011, Wanji took a brave and calculated risk, and decided to quit her job in banking. But where to next?
What did it take to pivot from a career in banking into a career in off-grid energy?
After leaving the banking industry, Wanji took this time to reflect and map out her reason for being. This involved coming up with a list of things she wants from a fulfilling career. On the top of her list:
"There were two things that I knew I wanted in a career. Firstly, I wanted a career where I could see and measure my personal contribution and impact, rather than being a cob in a wheel. Secondly, I craved an escape from the routine and formality, and wanted a career where the work I was doing was reinvigorating."
Wanji's Career in The Off-Grid Energy Sector
From banking, Wanji pivoted into what was a nascent sector at the time, off-grid energy. She began her career in off grid-energy at Greenlight Plant– a company that designs, distributes, and finances solar home energy solutions for households and businesses that lack reliable access to grid energy.
At Greenlight Planet Wanji took on the role of a global partnership advisor, working towards growing the firm's market in Latin America and the Pacific and eventually transitioned to lead their markets in East Africa and Southern Africa. In this role, Wanji developed and sharpened her professional skill set in the sector gaining invaluable experience in client management, rural distribution, and marketing in emerging markets.
Over the next 10 years, Wanji transitioned multiple times into new roles at different organizations, further growing and diversifying her expertise in the off-grid energy sector. Her experiences include but are not limited to her work at BioLite where she served as the vice president of sales, and GOGLA where she served as their program manager for access to finance.
Wanji's Reason for Being
With a wealth of experience in the off-grid sector, how has Wanji's Ikigai – reason for being – evolved?
"Initially, when I began my career in the off-grid energy sector my Ikigai (reason for being/purpose) was to create access to electricity in rural communities. Over the years my reason for being has evolved. Currently, my Ikigai is focused on enabling and empowering entrepreneurs breaking ground in new, infant, and non-conventional spaces with access to commercial funding for initiatives and innovations that serve the energy and mobility needs of low-income consumers."
What motivates Wanji to work in the off-grid energy sector?
"Seeing entrepreneurs and their businesses grow to a stage where they are able to elevate into commercial funding is a rewarding feeling that keeps me motivated and excited about working in the off-grid sector."
What is Wanji passionate about with the work that she does in the off-grid energy sector?
"I am passionate about the transformational power of entrepreneurship for the entrepreneurs and the communities they serve. A lot of entrepreneurs are moving out of traditional markets, and I want to be part of the shifting the campus by providing financing to young African entrepreneurs in spaces that are considered unconventional such as investment in clean energy and mobility, in comparison to more typical investments such as land."
What's next?
What changes does Wanji hope to see in 2022 within the off-grid energy and mobility sector in Kenya?
"Taxation has been a challenge in the growth of the off-grid energy and mobility sector in Kenya, and I am eager to see how we as private sector players can work around this for an industry that thrives while at the same time fulfills government expectations. In 2022 I would love to see more policies put in place to facilitate the growth of the off-grid energy and mobility sector in Kenya."
Where does Wanji see the off-grid energy and mobility sector in Africa in the next 5 years?
"Across the African continent, I predict more growth of electrification, not only growth in access but growth into higher tiers of electrification for underserved communities. In the next few years, I also see a growth in the Solar Agritech industry, and I am looking forward to seeing the gains and value off-grid energy investments will make towards tackling and mitigating the effects of climate change."
What Is Wanji optimistic about when it comes to the growth of the off-grid energy & mobility sector over the next few years?
"In Kenya, I am glad to see more conversations being held to help educate the public on the transformative power that the sector has to offer. With innovative and sustainable solutions that tackle on a micro level the energy and mobility challenges faced in Africa, and on a macro level the climate change challenges faced worldwide. Institutes such as the Strathmore Energy Research Centre (SERC) and events such as Ikigai Nairobi's Nemawashi Series – The Future of Energy Part 1 & Part 2 –  are at the nexus of paving platforms that dispel misconceptions of off-grid energy and bring together thought leaders and new entrepreneurs that are driving innovation in the sector."
To learn more about Wanji Ng'ang'a and stay up to date on her work in the clean energy and mobility sector – click here.