"On Purpose" is a special series of member spotlights where we learn a little bit about how working from Ikigai Nairobi has shaped our member's perspective of workspaces, community, and the journey of finding one's reason for being.
This week's member spotlight features Gregor Pannike, founder and managing director of Agema Analysts.
Read on to learn about Gregor and his legal perspective on why emerging markets such as Kenya are the ideal environment for startup businesses to thrive.
Meet Gregor Pannike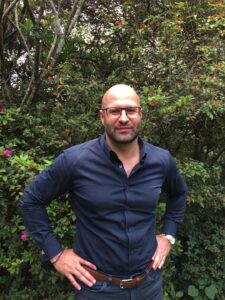 Gregor Pannike is a German qualified attorney-at-law, and the founder and managing director of Agema Analysts.
Agema Analysts is a specialized legal cross-border investment and risk advisory firm providing strategic advisory services and cutting-edge solutions to critical legal, investment, and risk areas. Through their advisory services, Agema Analysts support businesses and organizations in the Middle East, Africa, and Europe in making informed and ethical decisions and helps them navigate safely in complex and volatile regions
Gregor has more than 15 years of advisory experience in the field of legal structuring, investments and market entry, corporate and commercial transactions, as well as political and economic analysis within the Middle East, Africa, and Europe. In 2019 Gregor was named one of the top general counsels in the Legal 500 GC Powerlist Middle East.
What is your reason for being?
"What drives me is supporting businesses and organizations to overcome problems and find solutions in a safe, compliant, and ethical manner."
What is unique about the business that you do?
What sets Agema Analysts apart is our strong professional background and on-the-ground experience working in emerging markets. Our knowledge of on-the-ground developments, trends, and forecasting is based on superior analysis capabilities and profound knowledge of relevant target markets.
What has been the most rewarding aspect of the work you do?
Being in touch and working with people who are extremely ambitious and energetic, and becoming part of their journey is very exciting. Our clients include startups to multinationals from the Middle East, Sub-Saharan Africa, and Europe. This geographical and cultural exposure is perhaps one of the most rewarding aspects of the work we do at Agema Analysts.
With your cross-border exposure, what would you say is unique about the business market in Kenya?
As the commercial hub of the East African Community (EAC), Kenya has a thriving business environment with very strong institution policies and liberal commercial corporate law defined by the English legal system.
Kenya's business environment is also very open-minded and progressive making it an attractive investment destination, which is evident by the presence of notable multinational corporations such as Google and Visa which have established their regional headquarters in Nairobi.
While emerging markets can be at times challenging to operate in, they also offer a lot of amazing opportunities which markets in Wester jurisdictions many times do not have because they are matured and often saturated.
As Kenya prepares for the upcoming general elections in 2022, how do you think this will affect entrepreneurs and investors?  And what would you caution or advise businesses to consider during this volatile period?
Political elections usually come with the slowing down of investments, the economy, and growth in general. During this period, investors often shy away or become more prudent in their decision-making due to threats of political insecurity.
A major concern for investors is the structural problem of corruption. For instance, investors or new entrants from the West, that are subject to high compliance requirements in their jurisdiction, may be reluctant to work in Kenya because of the challenges of compliance and costs of the associated risks.
"I believe an election period is a good time for businesses to review and revise their compliance structures and risk assessments, as well as take the time to research and understand the geopolitical and economic risk profile of the country that the business operates in or plans to operate in."
What would say is the biggest risk startups face?
"For early-stage startups, the biggest risk is beginning with the wrong foundation when it comes to having the right legal structures, compliance systems, and conducting the appropriate due diligence and KYC (Know Your Customer) protocols with your clients and partners."
Another challenge early-stage startups face is the misalignment of regulatory requirements with licensing and revenue authorities.
You will be sharing your legal expertise at the 1st edition of Ikigai's Business Builder Workshop in an informative conversation on Boosting Investor Readiness this November 24th, 2021, at Ikigai Riverside. What are you looking forward to most from the upcoming workshop event?
What I look forwards to and will enjoy the most from the 1st edition of Ikigai's Business Builder Workshop is the knowledge-sharing opportunity to engage and learn from the audiences' wealth of knowledge and experience.
"Guests at Boosting Investor Readiness workshop can expect a cross-border perspective based on advisory work we at Agema Analysts have done, with expert legal insights on how we've supported our clients in profiling and mitigating certain risks, ways to overcome legal problems, as well as ways to prevent legal problems at the onset."
I was introduced to Ikigai Nairobi by a business partner and Ikigai member who invited me to Ikigai Lower Kabete for coffee at the Roasted Truth Café. I instantly fell in love with the space as soon as I stepped into Ikigai Lower Kabete. Shortly after, I became a member at Ikigai Nairobi.
With the growth of coworking spaces in Nairobi, why did you choose to become a member at Ikigai Nairobi, while maintaining your own commercial office space at Agema Analysts?
Ikigai is the perfect addition to the conventional corporate office. At Ikigai Nairobi I get the chance to meet, network, and collaborate with very interesting people in a very inspiring and motivating environment. At the same time, at Ikigai I can find quiet and peaceful spaces to focus and work on my own.
"What I enjoy most about Ikigai Nairobi is the diversity of locations. From the serene garden locations in Lower Kabete and Westlands, to the commercial locations in Lavington and Riverside which offers a corporate setting that still provides a lot of room for creativity, room to breathe, and room to meet people and share in the joint experience. The flexibility and variety of workspaces at Ikigai Nairobi is something I haven't found in traditional corporate office settings."
What do you love most about being a member at Ikigai Nairobi?
"What I love most about Ikigai Nairobi, which I have yet to experience in another coworking space is the combination of committed people both members and the team at Ikigai, and the homeliness of space and community."
Any parting words?
I believe networking and socializing is a very important aspect to help you thrive in your professional and personal life. I would encourage people to be open-minded to meeting others, to learn from others, share ideas, and not to hesitate to make the first step because you may unlock meaningful connections and lasting business partnerships.
You can learn more about work the work that Gregor Pannike does at Agema Analysts by visiting their website: https://www.agema-analysts.com/.
Click here to register for the 1st edition of Ikigai's Business Builder Workshop on Boosting Investor Readiness with Gregor Pannike.
Escape to the ultimate in flexible office spaces at Ikigai Nairobi. Become a member of Ikigai Nairobi to enjoy a variety of indoor and outdoor private offices, meeting rooms, and shared workspaces set in sprawling garden locations as well as our corporate locations. Work where you feel best.