"On Purpose" is a special series of member spotlights where we learn a little bit about how working from Ikigai Nairobi has shaped our member's perspective of workspaces, community, and the journey of finding one's reason for being.
The first edition of On Purpose features some of our founding Westlands members, as we welcome you back to the newly relocated Ikigai Westlands, now open in a stunning new garden location on Peponi Road.
This week we wrap up our spotlights on our founding members who've been with us since the opening of the first Ikigai Nairobi in 2016 in Westland on General Mathenge Road. Click here to find more spotlights on the founding members of Ikigai Westlands.
Let's dive into this week's spotlight!
Meet Wanjiru Koinange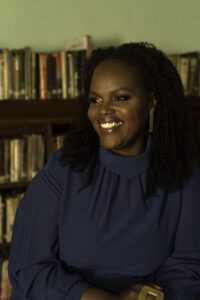 Wanjiru Koinange is a writer, publisher, restorer of libraries and entrepreneur from Nairobi, Kenya.
She is a co-founder of Book Bunk, a social impact firm that exists to restore old libraries, and install new ones, into public spaces in Nairobi. In partnership with Nairobi City County government, Book Bunk has been working to restore some of Nairobi's iconic public libraries: The McMillan Memorial Library – Nairobi's oldest public library, and two of its branches in Eastlands (Kaloleni Library and Eastlands Library in Makadara).
A true lover of culture and the arts, Wanjiru has a multifaceted list of experience in the creative industry. She has worked as a talent, festival, and events manager for some of East Africa's most renowned artists and musicians. While pursuing a Master's in Creative Writing from the University in Cape Town, Wanjiru explored how art is used as a catalyst for social change through the global non-profit organization, Africa Centre. During this time Wanjiru also served on the editorial team of Chimurenga, a Pan-African publication of culture, art, and politics based in Cape Town.
With a long list of accomplishments, you may best recognize Wanjiru Koinange for her highly acclaimed debut novel The Havoc of Choice, in which Wanjiru provides a masterful narration of Kenya's spontaneous social and political havoc.
The Havoc of Choice is a story about family, politics, and journeying through a fractured country in a delicate time. In it, Wanjiru mirrors the 2007 Kenyan post-election violence to explore the long reach and effects of colonization and corruption within the context of a singular household and the disparate experiences of class and clan they encapsulate.
The Havoc of Choice was published in 2020 by Bunk Books – the publishing imprint affiliated with Book Bunk. Bunk Books works with African writers, illustrators, animators, and other content producers to produce digital and print editions for children and adults.
If you have not yet read The Havoc of Choice by Wanjiru Koinange, then do yourself a favor and grab a copy here. Or if you are an Ikigai Nairobi member, you can borrow a copy The Havoc of Choice specially donated By Wanjiru Koinange, from Ikigai Nairobi's Tsundoku Library portal which is home to our book swap initiative aimed at connecting the Ikigai community through the love of reading (Tsundoku is a Japanese term that refers to the art of collecting books).
Before launching  Book Bunk, I was looking for office space and was referred to Ikigai Nairobi by a good friend who was an Ikigai Nairobi member.
I needed a place that was quick, accessible and a middle ground for both me and my  Book Bunk co-founder, Angela Wachuka, and Ikigai Westlands was the perfect location.
"I wanted an office space as close to home that wasn't my house and Ikigai Westlands gave me that – a peaceful place surrounded by trees, where people were kind, and the coffee was great!"
What made you opt for a coworking space like Ikigai Westlands over leasing your own commercial office space?
I wanted to escape the admin of having to run my own office space. I didn't want to worry about security, or who was going to restock the coffee and sugar. Every time I thought about what my ideal office space would be like, Ikigai Westlands would always pop to mind.
"I choose Ikigai Westlands over leasing my own commercial office space because Ikigai has offered me the simplicity and ease to run my business, it's a one-stop shop."
I have never worked in a formal office setting; I have always worked from home, so Ikigai felt like the natural next step for me. When Book Bunk began and we had a growing team to work with, having a shared meeting space to commune and collaborate became a mandatory need for us, and Ikigai Westlands was a no-brainer.
How has Ikigai Westlands impacted the way you look at work and community?
Ikigai Westlands has been a pivotal space for my career.
"What's special about a coworking space like Ikigai Westlands is that it gives you the space, flexibility, and freedom to work in the ways that best suit you, making for the most productive days. At Ikigai Westlands I felt I had control over my days, something that many people value, and I think something as simple as providing green spaces to work from has helped to create a workspace atmosphere that inspires and empowers a sense of autonomy."
When I would sit in the garden and dream about what restoring libraries looks like, it was very much inspired by the way Ikigai Nairobi feels, an energy that we at Book Bunk transferred into the libraries that we've been working on.
"I was a plant lover before discovering Ikigai Westlands but prior to that, I had never experienced public space with so much greenery. Working from the abundantly green space at Ikigai Westlands definitely shifted the realization for me about what space does for energy and how energy can affect output."
My Book Bunk co-founder Angela Wachuka and I had our first meeting in the garden at Ikigai Westlands to discuss the potential of Book Bunk on a lovely Saturday afternoon and that was the day I fell in love with the space.
What are some of your favorite moments at Ikigai Westlands?
My favorite moments have been any time that Kevin or Marion, the exceptionally talented baristas at Roasted Truth Café, handed me a cup of their deliciously brewed coffees. Those moments are a favorite for me because I think that those two are just the most incredible people I have met behind an espresso machine! The entire team at Ikigai Nairobi is truly special!
Another favorite moment was having our first Book Bunk Board meeting at Ikigai Westlands which was a very huge and validating moment for us at Book Bunk.
What is something new you discovered at Ikigai?
"At Ikigai Westlands I discovered many beautiful and inspiring friendships with the members in the community!"
There are many members I could list but one that comes to mind is the friendship I forged with fellow founding Ikigai Westlands member Marcus B. Moore, who is an award winning journalist and author of The Butterfly Effect: How Kendrick Lamar Ignited The Soul of Black America (click here or here to read some of Marcus' work).
I am a journalist by training so I know how challenging it is to dedicate your life to the field of journalism and connecting with Marcus, following his journey and seeing him grow has been an incredible experience and gateway to one of my favorite discoveries at Ikigai, that being music journalism and how one can pivot and grow a journalism career into a multi-book deal.
I will miss the trees in the garden at Ikigai Westlands the most. I will also miss the bench in the garden dedicated in memory of one of the Wasafiri Consulting team members (read more about the heartwarming story here). It was a special place where I could go and be still and clear my mind.
And lastly, where was your favorite spot to work from at Ikigai Westlands?
My favorite spot to work from was the long table in the commune at Ikigai Westlands, particularly the short end of the table closest to the window which became my writing corner. It was the perfect place for me to zone out and channel all my focus on my writing. Fun fact, the last draft of my debut novel The Havoc of Choice was edited sitting there. I'd make sure to get to my favorite spot bright and early by 6 am to secure my seat and I would sit there with my coffee and comfortably write for hours!
You can learn more about Wanjiru Koinange and Book Bunk by visiting:
Escape to the ultimate in flexible office spaces at Ikigai Nairobi. Become a member of Ikigai Nairobi to enjoy a variety of indoor and outdoor private offices, meeting rooms and shared workspaces set in sprawling garden locations as well as our corporate locations. Work where you feel best.