"On Purpose" is a special series of member spotlights where we learn a little bit about how working from Ikigai Nairobi has shaped our member's perspective of workspaces and community. In this series, our members share insights on the journey of finding one's reason for being from a wide spectrum of professional fields including but not limited to the creatives industry, tech entrepreneurship, mental health advocacy, and International Trade & Development consultancy.
The first edition of On Purpose features some of our founding Westlands members, as we prepare to welcome you back to the newly relocated Ikigai Westlands, reopening November 1st, 2021, in a stunning new garden location on Peponi Road. Last week we met Binny Brambhatt – read more about her journey here. Let's jump into this week's spotlight!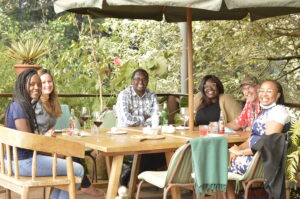 Wasafiri Consulting is a global consultancy, incubator, and institute helping leaders and organizations tackle some of the world's most complex problems related to conflict, poverty, food insecurity, and environmental sustainability.
Since the founding of Wasafiri Consulting in 2010, the team has worked at the heart of some of the world's toughest problems such as mitigating efforts in the conflicts in Afghanistan, Somalia, and South Sudan. They have also worked on securing fairer deals for poor countries in global climate change negotiations. In 2021, Wasafiri Consulting initiated the African Food Fellowship in partnership with Wageningen University & Research and with support from the IKEA Foundation.
The African Food Fellowship is a practical, collaborative, and visionary leadership initiative for inclusive and regenerative food futures on the continent. It targets emerging leaders from the civic, public and private circles to jointly transform Africa's food systems and ensure equitable availability and access to healthy and sustainable food for all.
We caught up with some of the Nairobi team at Wasafiri Consulting on a gorgeous afternoon at Roasted Truth Café at our first garden location Ikigai Westlands, formally located on General Mathenge Road and now opening on Peponi Road on November 1st, 2021.
What are some of the team's fondest memories at Ikigai Westlands on General Mathenge?
There are many enduring memories of our Wasafiri gatherings at Ikigai Westlands. Ikigai Westlands on General Mathenge Road was one of the most fabulous places to host people and celebrate Wasafiri at the same time.
Perhaps the most memorable gathering was when we hosted a memorial for Diana Ware, a beloved colleague of ours who passed away in 2017. The garden at Ikigai Westlands was the perfect location to pay tribute to our dear friend with the unveiling of a special garden bench in her honor. I fondly remember the heartwarming atmosphere that filled the space that day.
"I personally felt enormously supported by the Ikigai family throughout the whole process. In those moments, it felt like Ikigai and Wasafiri melded in this collective support."
Ana:
Diana's memorial was one of my fondest memories too. I knew Diana personally prior to joining the team at Wasafiri Consulting. In fact, she was the one who introduced me to Wasafiri and recommended me for the job.
Call it a sign, it just so happened that my interview with Wasafiri fell on the same day as her memorial where I got to read my sister's letter dedicated to Diana.
"It was that evening in the garden at Ikigai Westlands that I felt immediately part of the family. Having a safe and welcoming space to share in what was a preciously intimate moment, and bond with the people who would soon become my team and close friends over memories of someone we all deeply loved and cherished is a memory I will never forget."
What was a favorite spot to work from at Ikigai Westlands and why?
Bhabra:
I think that is a great question for Ana! (Warm laughter from the team at Wasafiri fills the air)
Ana:
My favorite spot was the cozy pallet benches by the patio overlooking the garden.
What would happen were someone in your favorite spot?
Ana:
Chances of that were unlikely but nonetheless welcome because Ikigai Westlands had a variety of spaces where I could comfortably work from. I often managed to secure my favorite spot by the window on the patio because our team was usually the first in the space, arriving at around 6.50 am, and as the saying goes, the early bird catches the worm!
Collectively, where was a favorite spot to come together as a team at Ikigai Westlands?
Bhabra:
We loved working together and catching up on the Deck, which holds many beautiful memories for the team at Wasafiri Consulting. A few of the things we will miss most about the space – bonding over lunch as a team and holding our Monday morning meetings on the Deck at Ikigai Westlands.
What will you miss most about Ikigai on General Mathenge?
Eunice:
What I will miss most about Ikigai Westlands on General Mathenge Road is the lush green garden, and I think it's safe to say the entire team at Wasafiri feels the same way too.
The garden at Ikigai Westlands was a special space for the community to come together and foster lasting relationships. It was also the most amazing and out-of-this-world backdrops to work from with the sun shining on flowers blooming and the sound of birds chirping in the background!
I fondly recall the first time I hosted a regional virtual call workshop for Generation Africa at the lower garden at Ikigai Westlands and everyone across the screen was amazed and impressed that this gorgeous and expansive garden was the place I got to call my office!
You can learn more about:
Click here for an excellent read on finding optimism and action in the hardest places written by founding director and principal consult at Wasafiri, Hamish Wilson.
Looking to Escape from the mundane and into the extraordinary? Visit our extraordinary workspaces that offer flexible private offices, spacious meeting rooms, and inspiring shared workspaces at Ikigai Westlands, reopening on the 1st of November 2021 in a new breathtaking garden location on Peponi Road!