"On Purpose" is a special series of member spotlights where we learn a little bit about how working from Ikigai Nairobi has shaped our member's perspective of workspaces, community, and the journey of finding one's reason for being.
The first edition of On Purpose features some of our founding Westlands members, as we welcome you back to the newly relocated Ikigai Westlands, now open in a stunning new garden location on Peponi Road. Last week we meet team at Wasafiri Consulting– read more about their experience at Ikigai here.
Let's dive into this week's spotlight!
Meet Roy Mutungi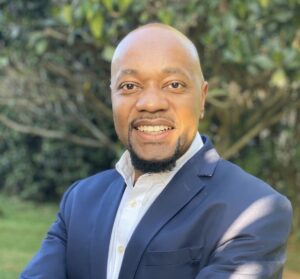 Roy Mutungi is an experienced senior software developer and the lead software engineer at Codeanza.
Codeanza provides comprehensive, integrated suites of software solutions through the adoption of Artificial Intelligence (AI) and automation, to transform their clients' services into efficient digital forms that improve operational efficiency, increase productivity and profit, and drive business growth. Codeanza solutions span across a range of industries including health, education, logistics, and creative industries.
Software Development is more than a vocation for Roy who enjoys reading and writing code, experimenting with emerging technologies such as AI, the Internet of Things (IoT), and Blockchain technologies. Roy Mutungi's wealth of experience in software development coupled with his ability to innovate, adapt, and work with others has seen him lead the team in developing solutions for companies across the globe including Kenya, Uganda, Nigeria, Spain, and the UK, just to mention a few.
Read on to learn about how Roy discovered the ideal workspace for him and his team at Ikigai Westlands, formerly located on General Mathenge Road.
I was out of the country for a little over 2 years and in 2017 began thinking about how to plug back in when I returned to Kenya, and I knew I had this fire to venture into my own software development business.
What I was looking for was a space where I could get my business started easily; a workspace that was move-in ready,  and where I could work comfortably and focus on my business without worrying about office management and utility expenses. I stumbled upon Ikigai Nairobi Ikigai Nairobionline, and this was my first encounter with the concept of coworking spaces.
When I returned to Nairobi in 2018 and got to view Ikigai Westlands in person, I knew instantly that Ikigai was the office space for me!
You mentioned Ikigai Nairobi was your first encounter with the concept of coworking spaces. What we're some of your first impressions of what was then a novel approach to workspaces?
I was impressed by the setup and the atmosphere that the team at Ikigai managed to capture at Ikigai Westlands, from the peaceful and functional outdoor workspaces to the unique décor and abundance of plants that are signature to Ikigai.
"Working from Ikigai Westlands never felt like work in the conventional sense of an office space where you often feel locked-in. The space felt more like a quiet workspace where one could zone-in and get what you needed to get done, similar to working in a library but with the benefit of being able to talk to other professionals within the space."
Ikigai Westlands was unique in a lot of aspects and the space helped develop my understanding of what a workspace should be.
"One of the things that stands out most is the special and unique quality of the Ikigai family, both the members and the management team. What I love about Ikigai Westlands is that it's a space that has helped me build the company and nurtured relationships that go deeper than work. I've built very good relationships with the people I've met at Ikigai Westlands which still stand strong to date."
At Ikigai Westlands I found the opportunity to get to meet people in an element where they felt free to talk about work and at the same time see them loosen up on say a Friday evening over the lovely member mixers hosted by the team at Ikigai Westlands.
On top of that, there was a lot of communication between the management and members, giving the whole experience a very personal touch. The entire community gets along so well, and everyone knows each other.
"At Ikigai Westlands there was an element of trust that I haven't encountered working anywhere else."
What is something new you discovered at Ikigai?
Every member at Ikigai Westlands was doing something different and intriguing. Each time I spoke to someone I encountered a completely different world – from people working in garden and landscaping, accounts and investments, technology, to highly acclaimed authors.
You would be sitting next to someone thinking they do one thing only to discover how multifaceted they are both in their personal and professional life after sparking a conversation of which people were very open and friendly to share in!
"The freedom and sense of trust to openly communicate and engage with members in the community is very much a signature of Ikigai."
It was always interesting to hear the varying perspectives of members at Ikigai Westlands.
I cherish being able to share conversations with fellow entrepreneurs on the challenges that start-up businesses face and getting the opportunity to exchange links and build networks to help our businesses grow and thrive.
"At Ikigai Westlands, I've discovered and gained different and valuable learnings that come with being able to engage with people from diverse networks and backgrounds; learning to listen, learning to appreciate what people are doing, and witnessing them grow through their different journeys."
How has Ikigai Westlands shaped the way you work?
The plus of Ikigai growing and having multiple locations has provided my team and I the option and flexibility to work from different locations based on circumstances, such as ease of access to clients for meetings, or even based on how your body may be feeling on a particular day that calls for the healing atmosphere of the outdoors.
Working from Ikigai Westlands has also been a plus from an employer's point of view – the people who've come on board to work with us seem to love the space just as much as I do.
And lastly, where was your favorite spot to work from at Ikigai Westlands?
The standing desk in the Commune at Ikigai Westlands adjacent to the fireplace that added an extra element of coziness to the space.
What I enjoyed about working at the standing desk was the flexibility to stand or sit which is an ideal way to work in the early phases of setting up a business when one finds themselves putting in a lot of hours working in a single spot.
You can learn more about the work that Roy does at Codeanza by visiting their website: https://www.codeanza.com/  or reach out to them by emailing info@codenza.com.
Escape to the  flexible office spaces at Ikigai Nairobi. Become a member of Ikigai Nairobi to enjoy a variety of indoor and outdoor private offices, meeting rooms, and shared workspaces set in sprawling garden locations as well as our corporate locations. Work where you feel best.