The time has come to welcome your team back to the office!
Returning to the workplace post-pandemic can feel like returning to school after Christmas break. You're excited to see and engage with your peers, but it can also be a bit nerve-racking. You may be uncertain and feel anxious about how to navigate in-person interactions when you've grown accustomed to working remotely.
How do I share space? What's familiar? What has changed? How do I recalibrate my schedule, workflow, and mindset back to an in-person work environment?
While some teams may be able to operate effectively and efficiently while working remotely, you may find that returning to the office may help strengthen how your team collaborates. In-person interactions can help your team better understand each other's ideas for more effective brainstorming and shorten feedback times, thus increasing productivity and team synergy.
Returning to the office can also help to rebuild a sense of belonging and provide a space for morale support, all of which may have suffered because of the isolation your team may have experienced while working remotely. That said, change can be difficult for some members of your team, therefore it is important to consider how you can ease your team's return to the office.
You can welcome and reacclimatize your team back to the office by providing workspaces that will make them feel safe, productive, valued, and supported.
When planning what workspace will be the best solution to transition your team back to the office, think about what perks will prevent them from hitting burnout. What technology and what type of space does your team need to do their best work?  How do you provide a workspace that can improve communication, increase productivity, inspire creative and collaborative thinking, and rebuild the company culture for your team?
If these questions sound like a tall order to answer, don't worry, you don't have to figure it out or do it all by yourself. are the perfect workspace solution to help ease your team's transition back to the office.
Here are 3 ways opting for coworking workspaces has helped to ease teams transitioning back to in-person work at the office:
1.      Flexibility
One of the upsides of the work-from-home (hereafter WFH) culture has been a better understanding of which tasks are better done at home versus in-office.  As many teams were preparing to return to the office, recognizing that logging more hours in the traditional 9 – 5 office schedule doesn't equate to higher productivity.
Most coworking memberships provide 24/7 access to secure workspaces, giving your team the flexibility to work remotely at the times they feel most productive, in a structured yet cozy workspace away from the distractions of WFH.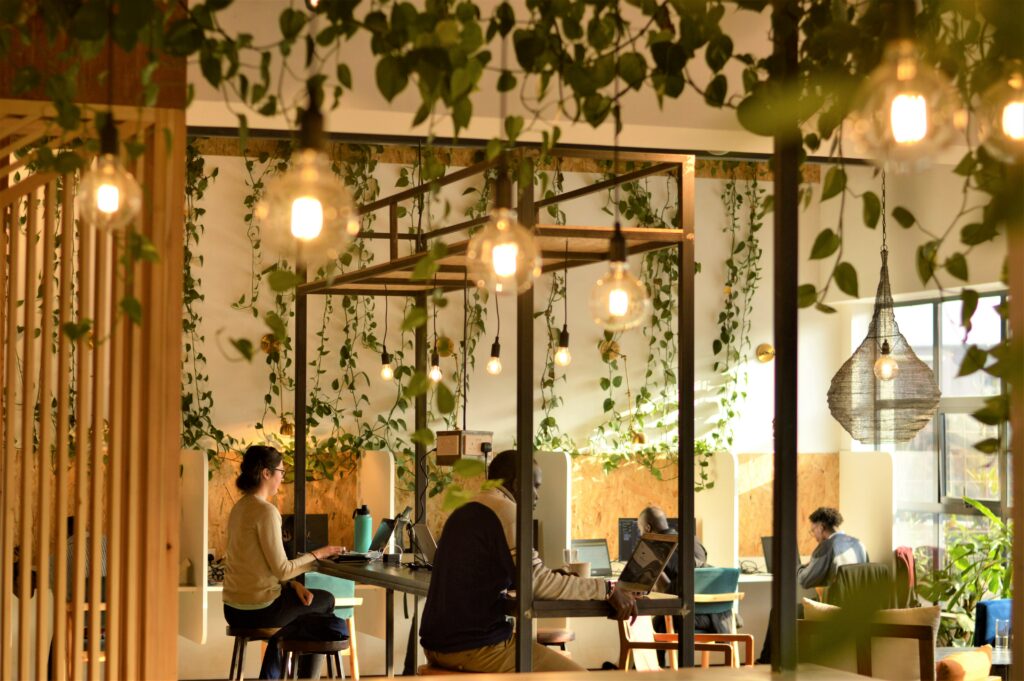 In addition to cutting costs and saving time on setting up your own office space, the flexibility of coworking provides an ideal environment for hybrid work models which are great for fostering a culture of smarter time management for you and your team. With flexible coworking spaces, your team can better schedule workdays around tasks that require in-person collaboration, versus those that can be accomplished individually. For example, an employee planning their week can designate certain individual tasks for at-home work if this is where they feel most productive while assigning collaborative efforts to days in the office or a few hours in a meeting room.
Not only will coworking give your company affordable office and meeting space solutions, but coworking can also help you retain and attract top talent by providing your team with the flexibility to define the time of day and space they feel they can get their best work done. In doing so, you empower your team with a sense of agency and control over the work they do, for a happier and in turn more productive team.
2.      Community and Collaboration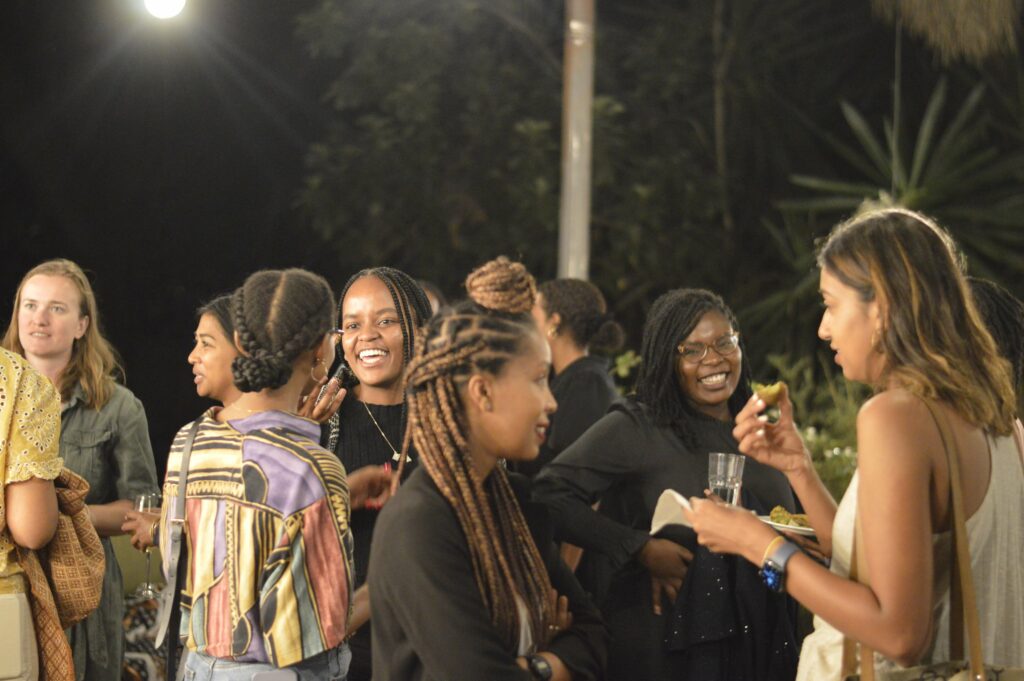 The deficit of in-person interactions brought on by Covid-19 has created a greater need for a sense of belonging within a community. If your team has been working remotely for quite some time, coworking spaces offer hubs to nurture communities which can help in reducing feelings of alienation, indifference, and loneliness.
The diverse hubs of community that can be found in coworking spaces also help to nurture positive work morale. Even when individuals aren't in the same company, being in spaces where you can see others being productive and enjoying their work the environment helps to create a mutual sense of purpose and connectedness.
When community exists, so does collaboration, which is key to keeping your team innovative. As home to diverse professional networks where industries collide, coworking spaces can elevate the way your team collaborates by exposing them to new ideas. Additionally, coworking can also provide you with a rich pool of professionals at arm's reach from which to scout for new talent to add to your team or contract to collaborate on a project.
Coworking spaces are also revered by startups to enterprises as a nexus for investment and funding opportunities. Choosing to ease your team back to in-person work through coworking can position your business in an ecosystem where community and collaboration within and outside your company can thrive, which in turn can help accelerate the growth and expansion of your business.
3.      Wellness Programs
Working from home can present some opportunities for a better work-life balance. For instance, the lack of commute to the office can provide you and your team more time to spend with family.
While work burnout has been a common problem that has persisted for decades, the Covid-19 pandemic has deepened this burden. Many people who had never experienced remote work before are struggling to set boundaries to separate work from home, with the demands of work radically increasing for everyone in an organization, from employees fearing layoffs to employers faced with the challenge of cutting costs in hopes of recovering financial losses in the wake of Covid-19 lockdowns.
As a result, many organizations have had to revise their definition of productivity, which now goes hand-in-hand with the principles of well-being. When you and your team's well-being is thriving, your organization directly benefits, for example, you can expect fewer sick days and lower staff turnover rates by making effort to reduce the chances of work burnout.
Well-being encompasses all the things that are important to each of us and how we experience our lives. There is more to employee well-being than merely the physical aspect. Did you know that there are eight dimensions of wellness?
Wellness is holistic practice and state of being made up of 8 mutually interdependent dimensions: physical, intellectual, emotional, social, spiritual, vocational, financial, and environmental.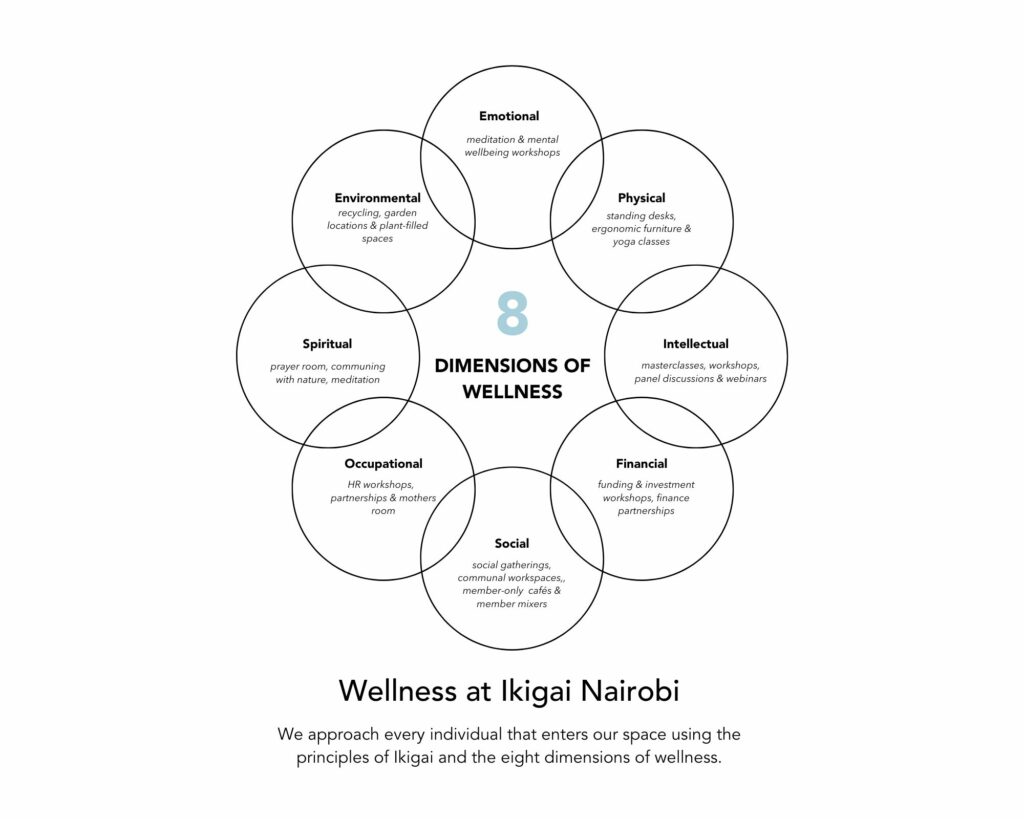 You may be thinking, "Eight dimensions of wellness! Those are far too many. How am I to run a business and at the same time provide wellness programs across so many aspects of a person's life?" Don't worry, you don't have to do it on your own. By design, coworking spaces such as Ikigai Nairobi, allow you and your team to focus on what you do best to make your business thrive while taking care of the rest.
In addition to taking care of the operational aspects of the office management, coworking workspaces offer a variety of wellness programs; from readily available healthy meals, invigorating fitness and calm meditative yoga sessions for physical and mental wellness, engaging workshops and industry panel discussions to nurture your intellectual, financial, and occupational well-being, to networking and exciting, fun-filled events for social wellness.
There is a limitless list of ways coworking spaces, like Ikigai Nairobi, can provide you with a workspace that will show your team that you value their well-being to help ease their transition back to the office while also respecting their time and freedom by empowering them with flexibility. But you don't just take our word for it – book a tour of Ikigai Nairobi today to discover a coworking space that prioritizes the well-being of your team.
Ikigai Nairobi is a collective of beautifully designed office spaces across Nairobi Westlands, Lavington, Lower Kabete, and Riverside! We offer flexible wellness-focused shared workspaces and private offices, meeting rooms, and event spaces to diverse and innovative entrepreneurs, creatives, SMEs, and corporates. Interested in learning more about our memberships? Click here for more information.