"On Purpose" is Ikigai Nairobi's special series of member spotlights where we learn about the journey of finding one's reason for being.
In today's spotlight, in honor of International Yoga Day (21st June), we dedicate this spotlight in special celebration of our wellness partner, Rachana Amlani, founder of Holding Space Ke.
The theme for International Yoga Day this year (2022) is 'Yoga for Humanity', fittingly so keeping in mind the important role that yoga has played in helping many dealing with the changes that came with Covid-19 pandemic. On this special day, we are reminded to appreciate the benefits of yoga to the mind and body, as well as the invaluable emotional and mental benefits the philosophies and practices of yoga have in instilling love and compassion towards one another.
Read on to discover how Rachana arrived at her life's purpose through her love for yoga, and how she's adapted and evolved her business in the face of the Covid-19 pandemic to offer a safe space for shared humanity.
Meet Rachana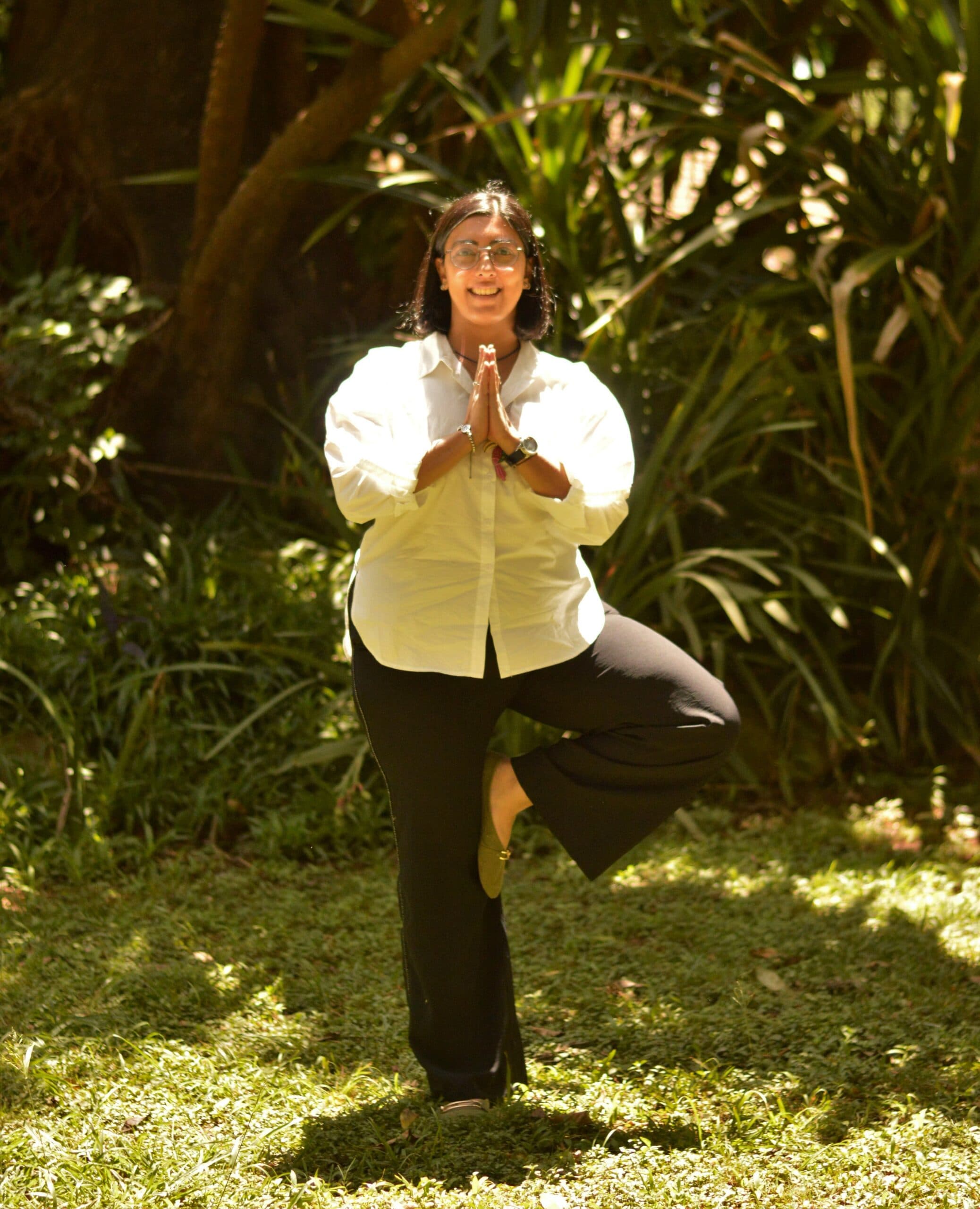 Rachana Amlani is the founder of Holding Space Ke – a yoga studio specializing in vinyasa flows, yin yoga, meditation, and Reiki healing. When Rachana is off the mat, you can find her breathing new life into property development projects with a full-time career in real estate.
By training, Rachana is a yoga and meditation teacher incorporating somantic embodiment and trauma therapy tools into her sessions. Rachana is also a certified Reiki practitioner. But above all, Rachana is a human being on a journey to make life easier for herself and the people around her by incorporating mindful yoga practices as a way of life.
Through Holding Space Ke Rachana provides a safe space for others to practice purpose-based movement, infusing yogic philosophy and mindfulness through yoga with a focus on Vinyasa flow, Yin yoga, and meditation, with elements of trauma-sensitive training.
What does Holding Space mean to you?
Holding Space is where people come together non-judgmentally, with compassion for self and others, and self-awareness and inquiry as we hold each other's hands and walk through life.
What does it mean to hold space for others?
Heather Plett, author of "The Transformative Effect of Being There For Others" beautifully describes what holding space means:
"Holding Space means that we are willing to walk alongside another person, through whatever journey they are on without judging them, making them feel inadequate, trying to fix them, or trying to impact the outcome. When we hold space for other people, we open our hearts, offer unconditional support and let go of judgment and control."
Holding space is not easy. As humans, we come with our own lenses, biases, thoughts, and judgments which we view life through, and to be able to hold space for others, we must be able to hold space for ourselves.
How does the philosophy of Holding Space translate into healing through physical movement?
We all go through trauma in various forms and ways, and a way to regulate ourselves and find healing is through mind-body relations or what is referred to as somatic movement.
Somatic movement refers to movement performed consciously with the intention of focusing on the internal experience of the movement rather than the external appearance or result of the movement.
By taking a somatic approach, we use the body to find a connection to the mind and this is where yoga, mindfulness, and meditation come in. You are not only staying in the mind or dissociating through the body but rather finding a way for the mind and body to communicate with each other to find a balance within.
How do you balance your 9-5 career in real estate and running your own business with Holding Space Ke?
It has been a long and uphill journey to find balance, but it has been rewarding at the same time. It took a lot of diving deeper, asking myself questions like what I want, and how I want to structure my time to make it work with a 9-5 job.
Luckily (touch wood), the pandemic allowed for work to slow down, which gave me more breathing space and flexibility around my hours.
How did the pandemic affect your workflow in real estate and workflow as an entrepreneur with Holding Space Ke?
Working in real estate, you find yourself constantly on the move. Initially, the work never stopped as we all had to quickly adapt to getting things done virtually. Eventually, the effects of the pandemic and lockdowns inevitably led to things slowing down, so we weren't getting as many real estate clients in the office.
With Holding Space Ke., the pandemic meant we had to shift all our sessions online for about 6 months. That was a big learning curve for me and it taught me a lot about managing timing, managing expectations, and managing frustrations around technology and its challenges.
I appreciate these learning curves as they gave me insight into how to accommodate the needs of those who attend my session, which allowed me to restructure my offerings, thus making my business more agile and flexible to external factors (such as the pandemic) that are outside our control.
How does the energy exchange differ between yoga sessions held in person versus those hosted virtually?
There are benefits to hosting yoga classes virtually.
Virtual sessions offer a sense of safety and comfort because you are in your own space.
Hosting classes online has allowed for an even bigger/wider connection because people who wouldn't have come otherwise have been able to attend these sessions – with clients logging into virtual sessions from places as far as Cyprus.
The beautiful thing about virtual yoga sessions is that it doesn't matter where you are in the world, we are all connected in some way or another.
What three things would you say inform and motivate you to do what you do?
I am passionate about helping others. 
Practicing yoga and mindfulness has had such a powerful and positive impact in helping me move through all that life throws us, so if I can share that or pay it forward in any way, that keeps me going.
I love how dynamic and unique each experience is with our sessions at Holding Space Ke. 
Being able to tailor-make a yoga or mindful meditation session for a group or an individual while they are going through something, and to see and hear the positive come out of that affirms that I'm on the right track, that I'm paving it forward and that energy exchange works in both ways.
Holding space for yoga and mindful practices helps to keep me on my toes. 
There are always new things to learn, new ways to hold space, and if anything, what the pandemic has taught us is that things aren't permanent. And even in yoga, Buddhism, & meditation, impermanence is a very big concept, which we have all had to learn to embody more and more now.
If you would like to book or learn more about yoga and mindful meditation sessions by Holding Space Ke, you can reach Rachana via:
Email: holdingspaceke@hotmail.com | Phone: +254 741 449 277 | Facebook: Holding Space Ke | Instagram: @holdingspaceke
Join Rachana every Monday at Ikigai Lower Kabete from 5:30 pm for calm, meditative, and active sessions that help balance the mind and keep you fit through a productive work week.
Ikigai is a collective of wellness-focused, beautifully designed share and private biophilic workspaces across Kenya's bustling capital city – Nairobi. With four locations across Nairobi in Westlands, Lavington, Lower Kabete, and Riverside, we provide our members and the wider Nairobi ecosystem with world-class private and shared offices, conferencing rooms, and event spaces that nurture meaningful human interactions.