We're excited to announce that we have partnered with our wellness partner – Mom3ntum Fitness – to launch a Spin Studio! We are thrilled to be working with Mom3ntum Fitness to offer our community a fun and energizing activity to unwind after a productive day at the office.
Mom3ntum Fitness is a fitness training studio based in Nairobi that offers a range of energizing group and individual training classes that make fitness fun and exciting! More than just a fitness studio, Mom3ntum Fitness embodies our spirit and love community – and has worked hard to create an inviting environment for its patrons.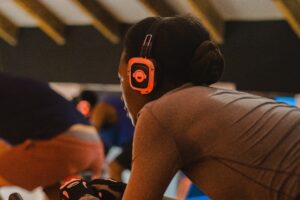 We are glad to be expanding our wellness program and partnership with Mom3ntum Fitness to include a weekly outdoor Bootcamp at Ikigai Lower Kabete and now, the Spin Studio at Ikigai Riverside!
Located on the fifth floor of our latest location, Ikigai Riverside, the Spin Studio is part of our mission to ensure teams that work from our locations are in a happier and healthier state of mind as they work on their purpose.
Open to all, the Spin Studio is open for sessions at 5:10 pm and 6:10 pm every Monday to Thursday, and at 5:30 pm every Friday. Each session is 40-minutes of exhilarating fun with the Mom3ntum team!
To join in on the fun, purchase a class pass or monthly pass here or write to the team at info@momentum.com.
All Ikigai members receive a 20% discount on the spin sessions, speak to us at the front desk for more information on how to claim your discount.
See you at the next spin session!
Ikigai is a collective of wellness-focused, beautifully designed share and private biophilic workspaces across Kenya's bustling capital city – Nairobi. With four locations across Nairobi in Westlands, Lavington, Lower Kabete, and Riverside, we provide our members and the wider Nairobi ecosystem with world-class private and shared offices, conferencing rooms, and event spaces that nurture meaningful human interactions.